The Weeks Rocker®

in cherry
$2175
Ready to ship January 17
A Weeks Rocker is guaranteed to be the most comfortable, the most beautiful, and the best constructed rocking chair you have ever experienced or we will refund your money and pay for shipping both ways.
-
-
-
We have chairs of other fine woods.
American Black Cherry
Wood from the Cherry tree is light in color when new, but ages to a rich, red brown. A year makes a big difference. See the new and the two year old table tops compared here. Cherry is easy to match into controlled displays of figure. Scattered dark mineral streaks are typical marks of character.
More information about the Woods We Use.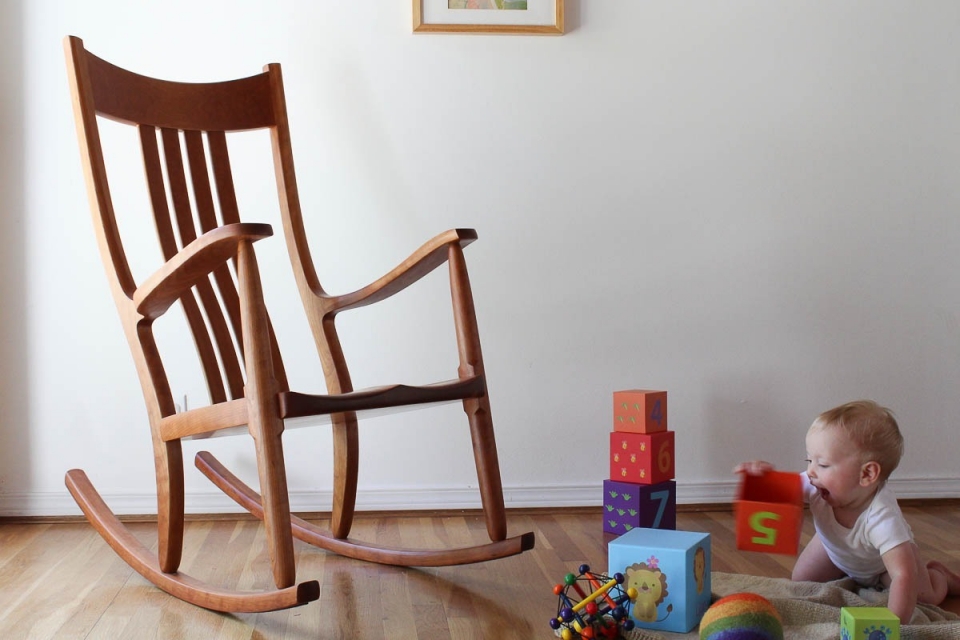 to keep parent and child comfortable at nap time, bed time, and story time
December 13, 2021

Just wanted to let you know that we received the rocker in fine shape and couldn't be more pleased with the result! It's everything you claimed it would be and then some: stunning in design, beauty, workmanship and comfort. Kudos to everyone involved in the design and production of such a work of art, and I don't use that term lightly!

You have a company to be proud of.

Best regards,
P.


Lake Oswego, Oregon
In 1998, our cherry rocking chair won the Collinswood Award for the best piece of furniture built of Collins FSC certified wood. It changed our lives for the better for Randy and Paul and Swede have taken care of us, taken care to send us a dimension and grade that makes the layout of lovely, well-matched rockers easy and quick.
Because the cherry comes long and clear, almost all heartwood, and because cherry is hard enough to hold a sculpted edge and wear well, but generous and forgiving as it yields a shaving to an edge, we love working it. And we can send a cherry rocker to you at a very good price.
Weeks Rocker®
Character and Benefits
Specifications
White Papers
Conception and Construction