The Weeks Rocker®
in mesquite
$4950
available for pick-up now
or to ship October 4
-
We guarantee that our Texas mesquite rocker is the most comfortable, the most beautiful, and the best constructed rocking chair you have ever experienced or we will refund your money and pay for shipping both ways.
Tall talk. We mean it.
-
-
-
We have chairs of other fine woods.
Texas Mesquite
The trees are short and crooked, most of the wood is full of defects. Pieces sound enough to make chair parts are rare. The color, depth, and figure are singular, beyond distinctive. Mesquite doesn't arrive as lumber, more as odds and ends. The piece Autumn and Will are unloading in the photo below is unusually large and clear on the face shown. The defects on the other side would break your heart.

More information about the Woods We Use.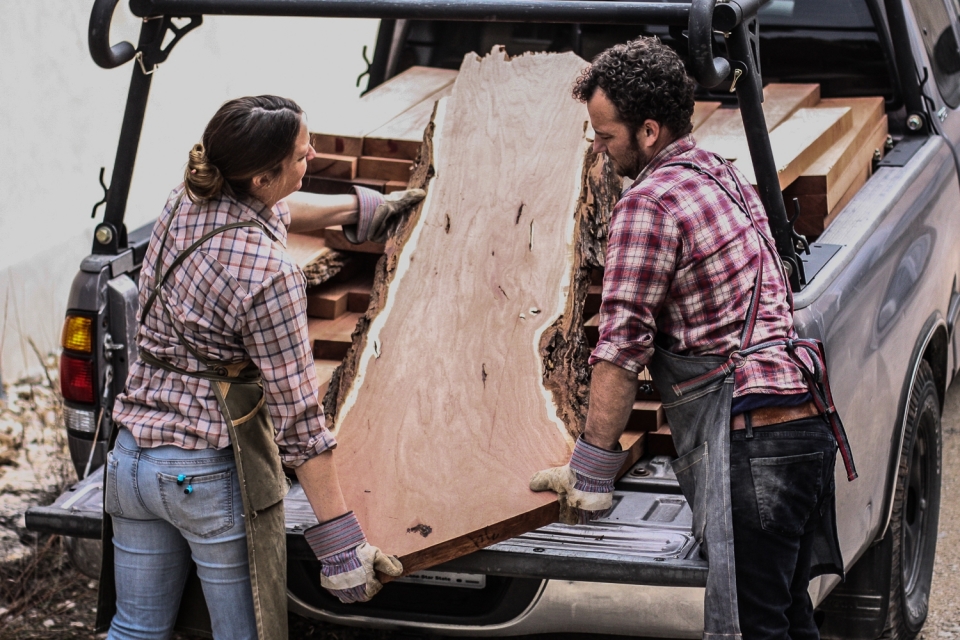 May 25, 2016

Dear Mr. Weeks.

We have had many good conversations in the past. Our chairs are still a blessing to our family and the Rocker is the highlight of the living room.

The Mesquite Rocker can sit in a cabin in the wilderness or in the White House and wouldn't be out of place in either!
It's a Gary Weeks!

Your friend,
L.

Mannington, WV
Because of the wild grain and defects, it is time-consuming, mind-boggling, and skill-intensive to select and produce rocking chair parts to meet our specifications for figure and strength--verifying custom and handcrafted.
Every time we go pick out a load of mesquite, haul it to the shop, rough cut rocking chair parts of it, put it in the kiln for final drying, and clean up the mess from defects, bark, and sapwood, we say "Let's don't make any more mesquite rockers."
Every time we put those chairs together and see them finished, we marvel. Soon, we head out for another load.
Weeks Rocker®
Character and Benefits
White Papers
Conception and Construction