The Weeks Rocker®
in walnut
$2500
Ready for local pick up now
or to ship Oct. 4.
-
If a Weeks Rocker is not comfortable for you, or not the best handmade rocker you have seen, you may return it for a full refund. We'll pay the shipping both ways.
-
-
-
We make rockers of other fine woods.
American Black Walnut
Walnut wood has a classic dark brown color with purple or red casts.
Our walnut is not steamed and we do not stain it. Steaming dulls the purples and reds. Staining muddies the depths. Many species of wood are stained "walnut", but nothing from a can rivals the color of natural walnut enlivened by a hand-rubbed oil finish.

Our walnut lumber is selected to our specifications at Irion Lumber.
More information about the Woods We Use.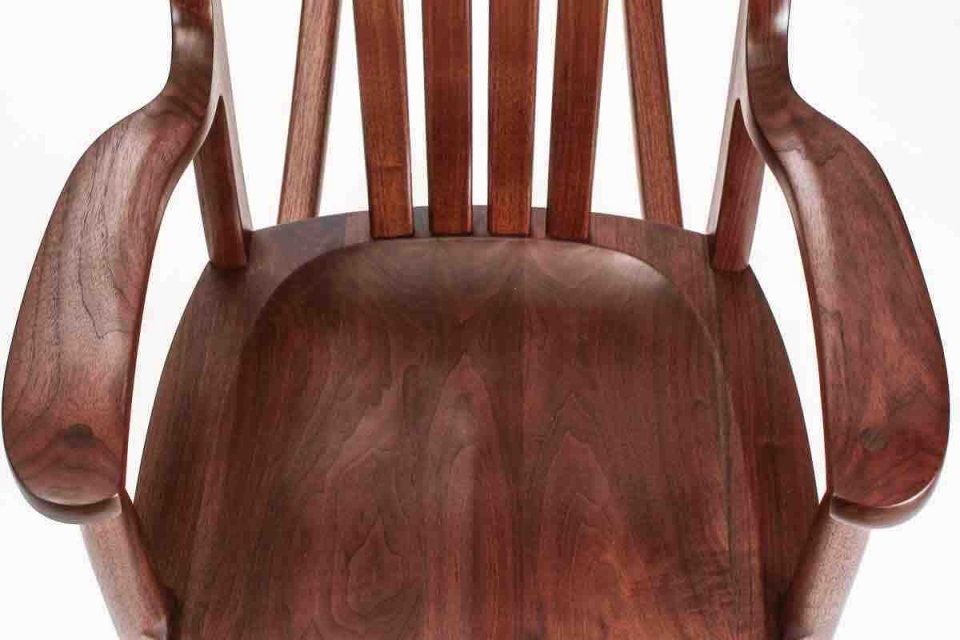 May 26, 2015

Thank you so much for the absolutely beautifully made walnut rocking chair you managed to get here in time to rock our twin grandsons visiting from NY City. I apologize for taking so long to write — lots of house guests and the end of the school year for me.

I have scoliosis and frequent back pain as a result. I can go sit in your rocker, and my posture improves. As long as I am rocking, my pain is considerably less. What a welcome surprise!

S.

Warrensburg, Missouri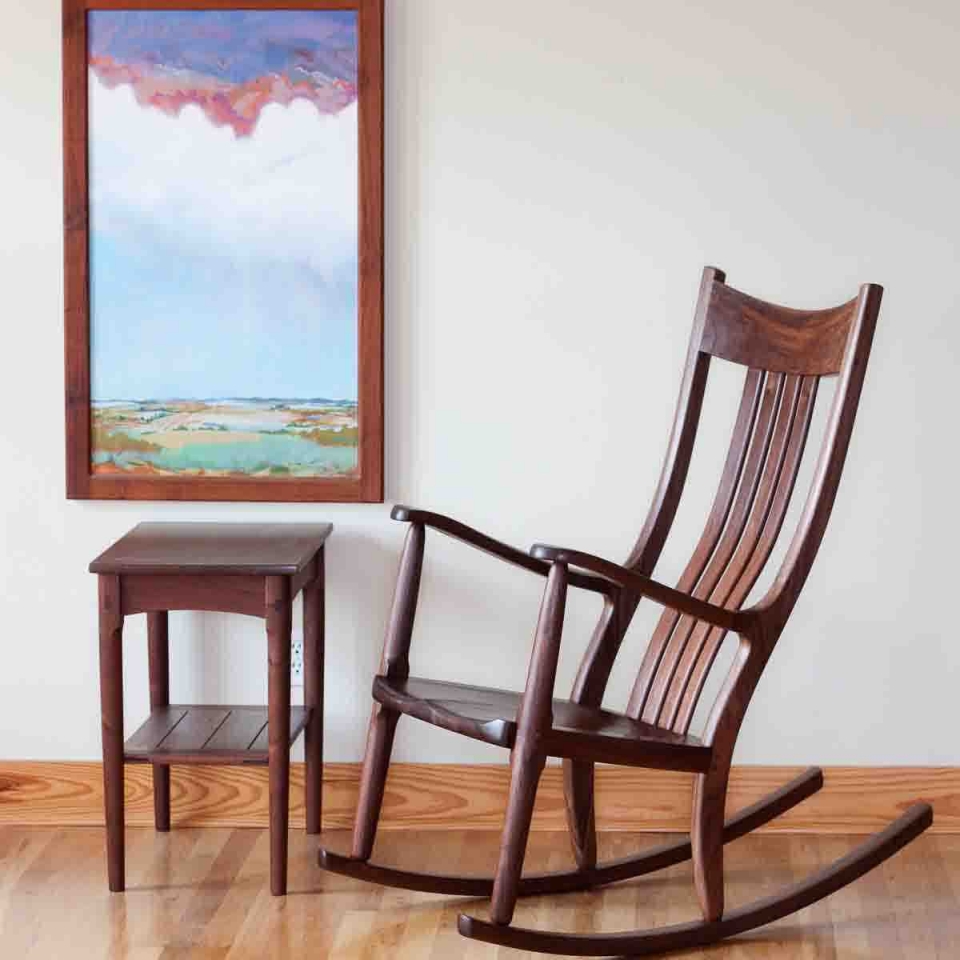 When we met Lou Irion, we knew we had a new dimension to making custom wood rocking chairs of walnut: that is: we have representation at the source. Lou and Myron selects our walnut lumber in walnut country, putting us at the head of the line for color, grade, and figure. Well, that is in line after the veneer buyers, but far ahead of our local distribution yards. It shows in the furniture. The lumber even gets praise from the truck drivers who help us load the lumber-shed/treasure-chest.
Because of the different habits of growth, walnut is more difficult to match than cherry. It takes more time. It challenges the imagination. It occasionally aggravates. But, it rewards the diligent. It is a pleasure to work once allocated to purpose.
We are amused, a time or two a year, when we find a lead bullet in the walnut, we guess from the days when more of us hunted squirrels.
The rich dark color delights us when we lay on that first coat of oil. The satin sheen softens the light and animates the shadows of the sculpted contours when we put on the last.
Weeks Rocker®
Character and Benefits
Specifications
White Papers
Conception and Construction