We moved a lumber shed last week. It occupied a space behind the shop where we will eventually expand the building. But we moved it last week because of the Bastrop Wildfire. In that fire, friends lost houses, cars, shops, and more. The mill at Texas Kiln Products, our supplier of mesquite lumber, was completely destroyed. While our shop is masonry and relatively fire resistant, the lumber shed is a box of tender.
We unloaded the building, jacked it up, winched it onto the trailer, and moved it down the hill beyond the bare-ground, "defensible" space we are creating around the shop.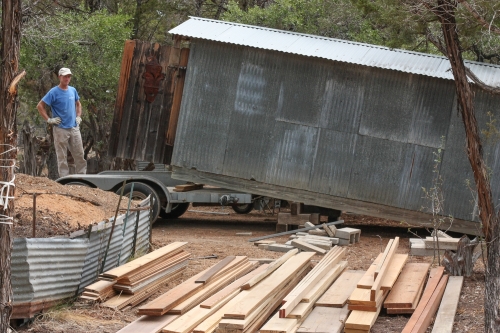 This shed does not hold wood for making our catalogued furniture. That lumber is stored elsewhere. In addition to framing and finish lumber for working on the buildings, the shed holds old growth pine and fir, figured wood, uncommon species, pretty wood, rot-resistant wood, very hard wood, very soft wood . . . the collection of an aficionado.
Twenty-five years ago, Pat Adams said of my collection, "This wood is like nuclear waste. You will protect it from the elements, try to think of a way to use it, and store it forever." I cannot deny the impracticality or reconcile the cost of storing with the "price" of the wood. But I cannot throw it out. Love creates duty.