Even a little business has many categories of records and tasks. We have wanted and imagined a database to manage orders, inventory, jobs, individual furniture items, on-time delivery, purchases … etc. We enough of Filemaker Pro to develop a system that has replaced seventeen clipboards and seven ring binders (not an exaggeration, I counted), shortened the hours of office work, eliminated a dozen trips a day from office to shop, and improved service to our clientele.

Much remains to be done. The more we use it, the more benefits, uses, and relationships we see. The database is a work in progress, but it has taken us beyond what we could do with paper, heads, and hands already.
This is our "operations window" showing our work order control layout. The tabs across the top link to other layouts and layers of layouts on the subject titles. On this work order control layout, fields turn red on the dates when action is required.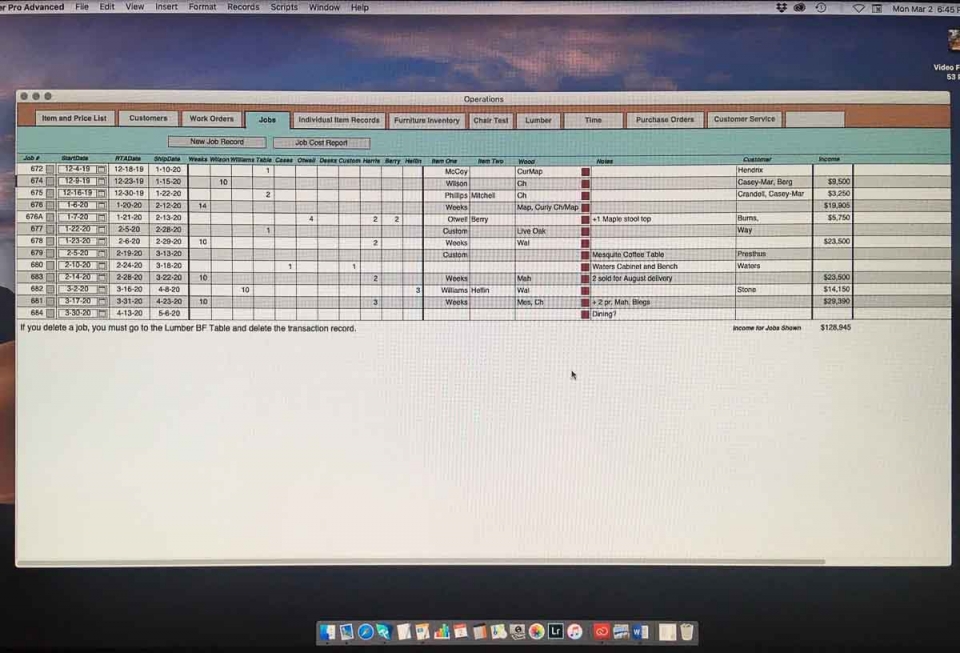 When we schedule a body of work, we create a Job. The scheduling of a job creates individual item records that are tracked through the shop, assigned to a customer, and shipped on time. Every individual item has a unique ID number stamped on its bottom and is linked to the customer record.
We put laptops in the assembly room and finishing room and record progress when and where progress is made. We know what to assemble on any given day to be sure and make promised shipping dates. When someone asks, we can say when an item is going to be available.
Game changed.