The air compressor was down for maintenance for a day this week. Aaron dug out the electric, 5-inch random orbit sander to sculpt and sand a rocker. When done, he said, "I had forgotten how much easier our air sanders are to use." Sanding remains a grumbling chore, so we all need a reminder of how much better it is since we put in a compressor large enough to drive sanders. They take a lot of air.
I took a photo of the electric sander Aaron had used and one of the air sanders. The air sander is lighter, smaller, and has dust collection built it. You hold the power of the compressor in one hand.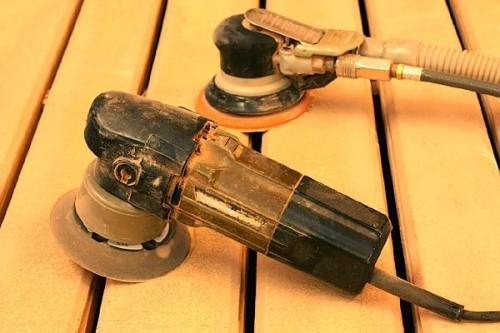 Aaron and I recalled the installation of the compressor. I thought of the photos we took when we set it up. In addition to placing the compressor and building a shed, we cut and threaded steel pipe by hand to build a loop around the shop with drops to machines and stations. We created a utility — power generation with an infrastructure of distribution.