Gary –
This is my story of the rocking chairs that I sent to my kids after they opened up their packages. I thought you might like to see it.
It has been a pleasure working with you.
- L.
Dear H., B., A., and A. -
This is the story about the rocking chairs.
In 2007, I was asked what I wanted for my birthday. I said a rocking chair, not a new rocking chair, an old rocking chair since they usually were more comfortable. But, I got a new rocking chair. As I was rocking in it and feeling uncomfortable, I wondered whether anyone had studied what makes a rocking chair comfortable.
I researched rocking chairs on the Internet and found that there was one person who had done that. It was Gary Weeks in Texas. According to him, he spent one and a half years doing prototypes and having various sized people sit in them. Eventually, he found a design that he claims is comfortable for anyone who is in the range of five feet to six feet three inches tall.
His website was quite informative on how he makes his rocking chairs. It is a family owned and run shop. It is situated next to where he lives out in rural Texas.
Today the website is even more interesting and worth looking at. https://garyweeks.com/
I ordered a rocking chair from him.
I knew from my research that his price was on the low end of the handmade-rocking-chair price spectrum. In fact on his present website, he has added two topics "why is his price too low" and "why his price is too high." So he has a sense of humor.
When I got his rocking chair and sat down, it was truly comfortable. A good blend of art and engineering. I started to think about all the hours, days, and maybe even weeks of me rocking three babies who were sick or trying to get to sleep at night. I decided that if and when my kids had a baby, I would send them this rocking chair.

Since it is handmade, it can be an heirloom that they can pass down to their kids. Turn the rocking chair upside down and you can see they are numbered, signed and marked with the year they were made.
In late March, I got an e-mail from A. talking about how she was in a rocking chair in their baby's room. I knew that they had a rocking chair. But I am of the opinion that you can never have too many comfortable rocking chairs.
My initial plan was to send them the rocking chair after she delivered the baby.
However, I started to think about the coronavirus situation. I might be in the hospital or dead after she delivers or Gary's company may be out of business. The Texas governor does not believe in science.
So I ordered up the rocking chair for A. and A. About two days later, I heard from B. that H. was pregnant. So naturally I ordered one for them.
When I ordered the chairs, Gary and I swapped e-mails. He told me that he has three grandchildren. Apparently, he sees a large number of grandparents buying rocking chairs for expectant mothers. Also a large number of expectant mothers have written to him about how comfortable his rocking chairs are. I especially like the video on their video tab of "Susan's story." The expectant mother indicating that she wanted this rocking chair or else.
I hope this rocking chair brings you comfort on those long days and long nights.
- Dad
This is L's porch rocker that got this saga rolling...or rocking.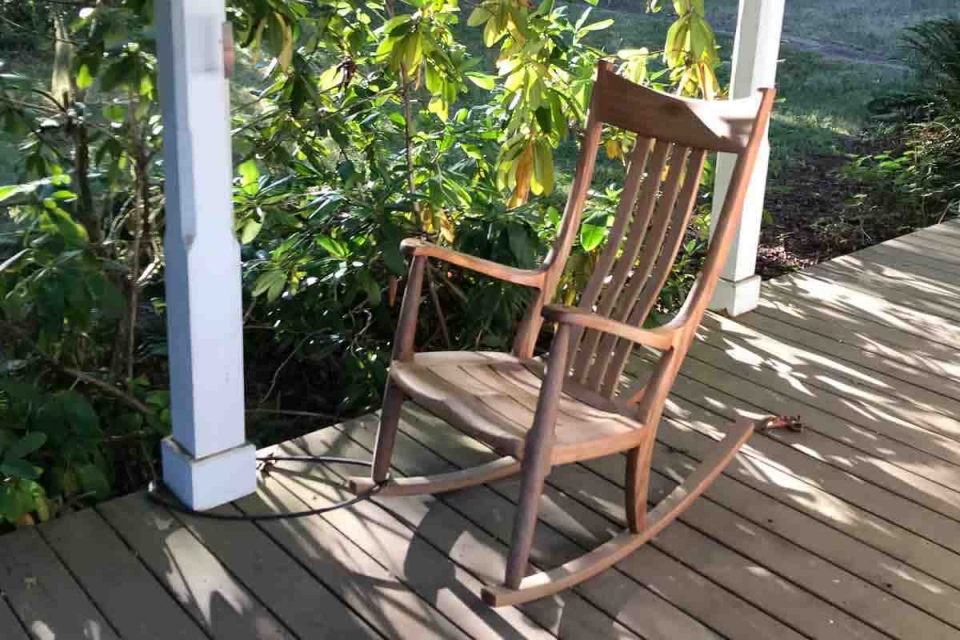 We also built some dining chairs for the dining table he built.